Here's a bit of news you might have missed a week or so ago. The Nintendo Switch has sold 10 million units in the 9 months since its release along with a successful launch in South Korea not long ago. Here's another bit of news you might have missed; Goldman Sachs just changed Activision's (ATVI) status from "hold" to "buy".
Are these two events unrelated or is there something going on in the background, something only investors and industry insiders know about?
THE TIMELINE
December 10th – Nintendo announces 10 million Switch consoles sold worldwide in 9 months
December 12th – Goldman Sachs upgrades Activision's status to "buy" from "hold".
LOCK, STOCK
Goldman Sachs' Christopher Merwin seems to believe that Activision's stock will keep rising due to the possibility of future releases like a Diablo sequel and Overwatch 2, along with a Blizzard mobile game. But is this really the only reason he did that? Are you telling me this expert analyst is basing their whole evaluation on games that have not been acknowledged at all and might not even be in development yet?
MONEY TALKS AND APPARENTLY SINGS
The timing is not a coincidence. Activision has major titles in development for the Nintendo Switch and the news of 10 million consoles sold is music to investor's ears. There is an obvious connection between the boost the stock of these two companies got 2 days apart from each other.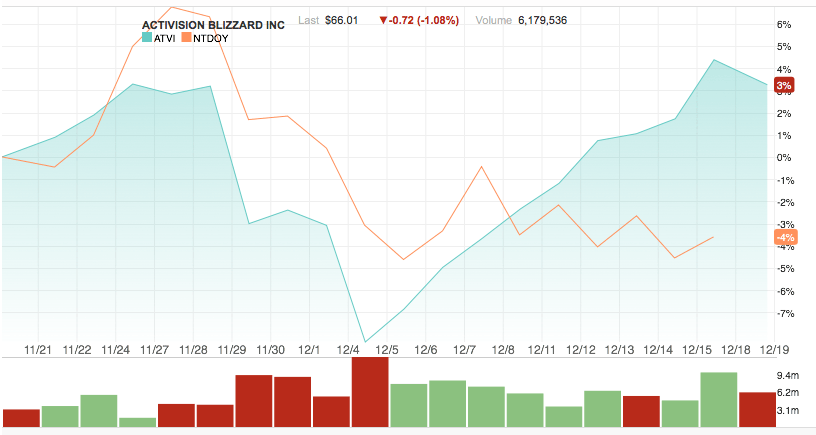 EVERCHANGING INDUSTRY
In the past we reported that according to our sources, Call of Duty WWII was in development for the Nintendo Switch and would have come out Nov. 3rd 2017. That didn't happen. A lot of it had to do with Nintendo's sudden decision to push their subsciption-based online service to launch in January 2018 and the fact that things change rapidly in the gaming industry. The game that was rumoured to be in development for Switch might be scrapped altogether.
All I know is that with these numbers and the correlation between Nintendo's success and Activision's stock jump, Call of Duty is coming to the Nintendo Switch. Whether we will finally see a surprise announcement of the rumored game in Nintendo's January Direct Presentation or a new game later in Spring 2018, Call of Duty will blow up on the Switch, no matter what. It's just a matter of time.